It's easy to overreact to early-season losses in the NBA. But it seems that all of the abhorrent reactions to the Los Angeles Lakers start are warranted.
L.A. dropped to 0-3 following yesterday's home loss to Portland, and afterward LeBron James said the team's mood was "s—ty."
Well, the oddsmakers have taken note of that stench and dropped the Lakers significantly on the NBA Finals odds board.
Just one week ago, SportsBetting assigned the Lakers with 22-1 odds and reported that 9% of the book's entire championship wagering handle was on L.A., which was the second-highest percentage after Golden State (18%).
Now, the Lake Show is well down the list with 33-1 odds, and the drop marks the biggest odds movement through the first week of the season.
It's worth noting that the Lakers have the exact same title odds as the Cavaliers.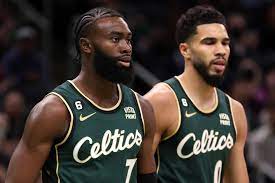 As far as L.A.'s playoff outlook…the numbers aren't pointing toward a happy place.
Will the Lakers make the NBA Playoffs? (play-in tournament does not count)
Yes +110
No -140
NBA Playoffs odds:
NBA Championship Odds
Boston Celtics 6-1
Golden State Warriors 6-1
Los Angeles Clippers 7-1
Milwaukee Bucks 8-1
Brooklyn Nets 9-1
Phoenix Suns 12-1
Denver Nuggets 14-1
Philadelphia 76ers 16-1
Miami Heat 20-1
Dallas Mavericks 22-1
Memphis Grizzlies 22-1
New Orleans Pelicans 25-1
Minnesota Timberwolves 28-1
Cleveland Cavaliers 33-1
Los Angeles Lakers 33-1
Atlanta Hawks 50-1
Toronto Raptors 50-1
Chicago Bulls 66-1
Portland Trail Blazers 80-1
New York Knicks 100-1
Charlotte Hornets 200-1
Utah Jazz 250-1
Washington Wizards 250-1
Sacramento Kings 300-1
Detroit Pistons 500-1
Orlando Magic 500-1
Oklahoma City Thunder 750-1
San Antonio Spurs 750-1
Houston Rockets 1000-1
Indiana Pacers 1000-1
| MyBookie | | Double deposit up to $1,000 +$100K |
| --- | --- | --- |
| Bovada | | Great online casino with 3K welcome bonus! |
| GT Bets | | 100% bonus on initial deposit, 50% on 2nd |
| Bet Now | | 100% sign up bonus |
| BetOnline | | Home of the opening line, has a $1,000 welcome bonus |
| Sports Betting | | #1 rated sportsbook for live betting. 1K signup bonus |