All signs point toward Aaron Judge re-signing with the New York Yankees.
But what if the league's most popular player ditches his pinstripes for a new uni next year? Where would Judge fit best, and which franchise could shell out enough greenbacks?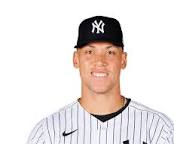 SportsBetting has set odds for Judge's next team, and the Top 3 teams with the best chances all reside in the National League.
Aaron Judge Next Team Odds
San Francisco Giants 2-1
New York Mets 3-1
Los Angeles Dodgers 4-1
Houston Astros 6-1
Texas Rangers 8-1
Boston Red Sox 8-1
Toronto Blue Jays 10-1
Chicago White Sox 10-1
Philadelphia Phillies 13-1
Additionally, the sportsbook posted World Series MVP odds Monday, and the favorites should be no surprise.
After blasting a series-clinching home run on his birthday Sunday, Bryce Harper is the overall favorite for MVP.
Yordan Alvarez, who put up MVP-like numbers during the regular season is second on the list, while rookie teammate Jeremy Pena has the third-best odds. Here's the full list:
World Series MVP Odds
Bryce Harper (PHI) 6-1
Yordan Alvarez (HOU) 7-1
Jeremy Pena (HOU) 8-1
Justin Verlander (HOU) 9-1
Jose Altuve (HOU) 11-1
Kyle Tucker (HOU) 12-1
Alex Bregman (HOU) 14-1
Kyle Schwarber (PHI) 16-1
Zack Wheeler (PHI) 16-1
Aaron Nola (PHI) 18-1
Framber Valdez (HOU) 18-1
Rhys Hoskins (PHI) 20-1
J.T. Realmuto (PHI) 25-1
Yulieski Gurriel (HOU) 25-1
Christian Javier (HOU) 33-1
Alec Bohm (PHI) 40-1
Jean Segura (PHI) 40-1
Lance McCullers (HOU) 40-1
Nick Castellanos (PHI) 40-1
Chas McCormick (HOU) 50-1
Trey Mancini (HOU) 66-1
Christian Vazquez (HOU) 80-1
Ranger Suarez (PHI) 80-1
Brandon Marsh (PHI) 100-1
Bryson Stott (PHI) 100-1
Martin Maldenado (HOU) 100-1
Noah Syndergaard (PHI) 100-1
Ryan Pressley (HOU) 100-1
S. Dominguez (PHI) 100-1
Zach Eflin (PHI) 100-1