We go 2-0 yesterday plus a push. One run in eight innings, eight in ninth makes Phillies UNDER a push. Two more winning baseball for Friday night. Our sports science labs continue to research and discover. Yes, we did unearth totals metrics that apply cross-sports. That is why our totals have exploded in number of releases and winning percentage.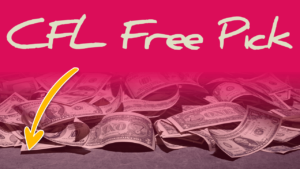 We have men's and women's futures to win Wimbledon! WNBA, CFL NHL, horse racing, World Cup, added rotation games in college football and basketball, all prop bets, etc are considered by too many a niche and many do not bet, all such records are kept separately.   Get the picks now
CFL free premium pick from Joe Duffy
CFL
Wise Guy
MONTREAL +13 Hamilton
More rested team under specific circumstances that apply today are 81-44-3. Early season underdog angle is 168-118-4. Road underdogs in losing streaks are 157-109-5. When both the first and third angles apply, it is a stunning 31-12-1.
Major
Hamilton-Montreal UNDER 58
High totals go under under specific circumstances that apply today at 339-251-8 rate.
Free WNBA pick from Joe Duffy's Picks
PHOENIX -5 Indiana
Team with much worse ATS margin under specific circumstances that apply today are 238-106. This is a "free pick" rather than premium level plays you often get for free here. It is 6-2 this year off a very rare bad season.
7PM ET–Cubs (Hamels) at Reds (Gray)
Hamels ERA of 1.00 in his last 5 starts though 4 ER last 14 IP

ERA is 3.30 road, comparted to 2.58 home, though other numbers closer
OPB is .322 at night, just .270 in days games

Gray 6.00 ERA last three starts with .348 OBP, 1.53 WHIP

Worse at home 4.26 ERA to 3.79 home but OBP and WHIP slightly better at home

Cubs 14-19 since May 23 -8.87 units and -20.7 ROI
Reds UNDER 76-40-3 since August 15, 2018
7PM ET–Braves (Soroka) at Mets (deGrom)
Both pitchers better on road
Soroka has forearm contusion last start and 5.54 ERA last three with .352 OBP, 1.46 WHIP

FTY 2.07, .264, .97
Much better road 1.05 ERA, .229, .80
Also better at night 1.95, .261, .96

DeGrom 2.45 ERA last 7 starts

deGrom 3.73 ERA at home compared to 2.86 road; .290 OBP compared .269, though WHIP almost same

Braves 143-137 road since April 15, 2016 +52.43 units and 17.5 ROI
Mets OVER 22-11-3 recently
Mets 15-5 at home for 25.3 percent ROI
8:10PM ET–Pirates (Archer) at Brewers (Chacin)
Based on pitching numbers, will be ugly
Archer horrible 8.42 road ERA (decent 3.89 home), 1.68 WHIP (1.36), .371 OBP (.316)
Chacin 18 ER last 17 IP over four starts including 10.50 ERA last three with .429 OBP and 2.17 WHIP
Pittsburgh over 34-13-3 since May 1
Brewers 3-9 -9.3 units
8:40PM ET–Dodgers (Ryu) at Rockies (Senzatela)
Ryu 9-1, 1.27 ETA, .225 OBP against, .84 WHIP

Less dominating on road and night

Senzatela 6.21 ERA home (3.92 road), though OBP and WHIP comparable
LA Dodgers 3-6 recently -6.7 units
Colorado 221-189 +33.56 units since April 3, 2017