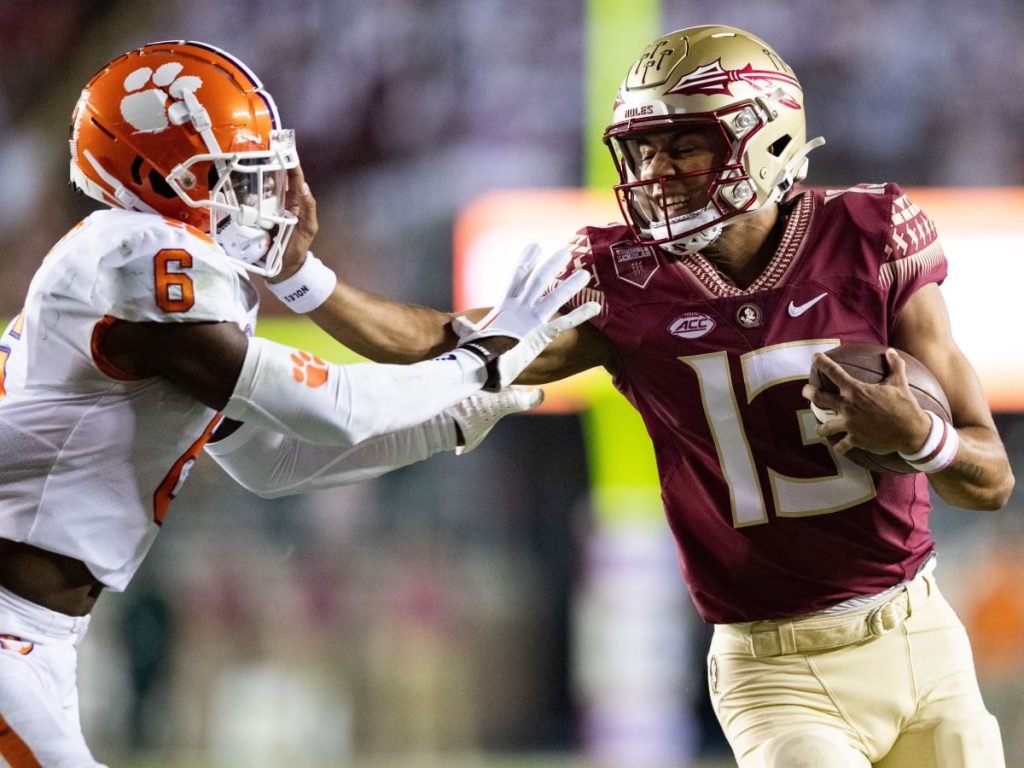 We're three months and a single day away from the start of the 2023 college football season.
Most of the student-athletes are out of school by now, but they'll be grinding all summer to prepare for the upcoming season and a chance to compete for the CFP Championship.
Since conference odds and game lines (111 games listed) were initially released a month ago, there have been some major movements.
All odds are provided by SportsBetting If you are able to use this information, please consider citing the source.
ACC
Florida State +160
Clemson +190
North Carolina +600
Louisville +1000
NC State +1200
Miami Florida +1800
Pittsburgh +2200
Duke +3300
Wake Forest +4000
Syracuse +5000
Boston College +10000
Georgia Tech +10000
Virginia +10000
Virginia Tech +10000
Big Ten
Ohio State +160
Michigan +180
Penn State +600
Wisconsin +650
Iowa +1100
Minnesota +2800
Maryland +4000
Illinois +5000
Nebraska +5000
Michigan State +7500
Indiana +10000
Northwestern +10000
Purdue +10000
Rutgers +10000
Big 12
Texas +105
Oklahoma +350
Kansas State +500
Texas Tech +900
TCU +1100
Baylor +2000
Kansas +4000
West Virginia +4000
Cincinnati +5000
Iowa State +5000
Oklahoma State +5000
UCF +5000
Houston +7500
BYU +10000
Pac-12
USC +200
Oregon +325
Washington +350
Utah +525
Oregon State +800
UCLA +1200
Washington State +2500
Colorado +3300
Arizona +7500
Arizona State +7500
California +7500
Stanford +10000
SEC
Georgia +100
Alabama +200
LSU +525
Tennessee +1400
Texas A&M +1400
Mississippi +3300
Auburn +6600
Florida +7500
Mississippi State +7500
Arkansas +8000
Kentucky +8000
Missouri +8000
South Carolina +8000
Vanderbilt +10000
Saturday, August 26
Navy vs. Notre Dame (-20.5)
UMass @ New Mexico State (-10)
Florida International @ Louisiana Tech (-10)
San Jose State @ USC (-30)
Ohio @ San Diego State (-4.5)
UTEP @ Jacksonville State (-2)
Hawai'i @ Vanderbilt (-17.5)
Thursday, August 31
Kent State @ UCF (-33)
NC State (-16.5) @ UConn
Nebraska @ Minnesota (-7.5)
Florida @ Utah (-9)
Friday, September 1
Miami-Ohio @ Miami (-17)
Central Michigan @ Michigan State (-14)
Louisville (-8) @ Georgia Tech
Saturday, September 2
Stanford (-10.5) @ Hawai'i
UMass @ Auburn (-39.5)
Sam Houston @ BYU (-24)
South Carolina @ North Carolina (PK)
Fresno State @ Purdue (-6)
Northwestern @ Rutgers (-4)
Louisiana Tech @ SMU (-14.5)
Virginia @ Tennessee (-28)
Buffalo @ Wisconsin (-23)
South Florida @ Western Kentucky (-13.5)
Washington State (-16.5) @ Colorado State
California (-7) @ North Texas
Coastal Carolina @ UCLA (-14.5)
Nevada @ USC (-35.5)
Boise State @ Washington (-15.5)
Northern Illinois @ Boston College (-10)
Old Dominion @ Virginia Tech (-14.5)
Texas State @ Baylor (-24.5)
UTSA @ Houston (-2.5)
Arkansas State @ Oklahoma (-33)
Rice @ Texas (-35)
Texas Tech (-14.5) @ Wyoming
South Alabama @ Tulane (-7)
Akron @ Temple (-10.5)
Middle Tennessee @ Alabama (-37)
Toledo @ Illinois (-9)
Ohio State (-27.5) @ Indiana
Utah State @ Iowa (-21)
Ball State @ Kentucky (-27)
Bowling Green @ Liberty (-11.5)
East Carolina @ Michigan (-36)
New Mexico @ Texas A&M (-37.5)
Army (-7.5) @ UL Monroe
Colorado @ TCU (-21.5)
West Virginia @ Penn State (-17.5)
Sunday, September 3
LSU (-2.5) vs. Florida State
Oregon State (-16.5) @ San Jose State
Monday, September 4
Clemson (-12) @ Duke