Georgia and TCU will play for this season's college football championship tonight, but the Horned Frogs aren't considered one of the favorites to get back to this spot next year.
SportsBetting opened up early 2024 CFP Championship odds Monday. The usual suspects lead the pack, then there is a sizable gap between those three and the rest of the teams.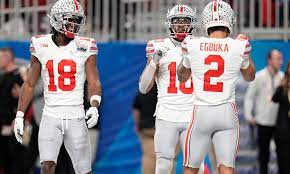 TCU is well down the list at 25-1. Don't forget, the Frogs started this season with 250-1 odds.
2024 CFP Championship odds will be updated in real-time on this page:
Best college football handicappers are on OffshoreInsiders.com
2024 CFP Championship
Georgia 3-1
Alabama 4-1
Ohio State 6-1
Michigan 12-1
Notre Dame 14-1
Penn State 18-1
Texas 18-1
Clemson 25-1
TCU 25-1
Utah 28-1
USC 33-1
Kansas State 40-1
LSU 40-1
Oklahoma 40-1
Miami 50-1
Oregon 50-1
Oregon State 50-1
Tennessee 50-1
Texas A&M 50-1
UCLA 50-1
Wisconsin 50-1
Florida State 60-1
NC State 60-1
Washington 66-1
Florida 75-1
Auburn 100-1
Iowa 100-1
Kentucky 100-1
Mississippi State100-1
Missouri 100-1
North Carolina 100-1
Oklahoma State 100-1
Ole Miss 100-1
Purdue 100-1
South Carolina 100-1
Tulane 100-1
Arkansas 150-1
Michigan State 150-1
Illinois 200-1
Indiana 200-1
Minnesota 200-1