For the first time in his young career, Jayson Tatum is the favorite to be named MVP.
Tatum's Celtics are a on a tear, reeling off seven straight victories en route to the league's best record.
The MVP odds at SportsBetting looked different Tuesday morning than they did Monday, when Giannis Antetokounmpo and Luka Doncic were basically co-favorites. Now, there is a crowded trio at the top of the board, led by Tatum.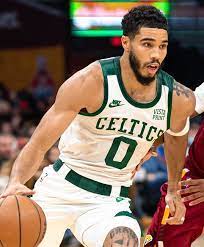 Additionally, it looks as if Paolo Banchero has Rookie of the Year locked up, despite not playing for more than a week due to an ankle injury.
Shai Gilgeous-Alexander scored 37 points for the second consecutive night Tuesday to boost his Most Improved Player chances while Russell Westbrook remains the heavy favorite for Sixth Man of the Year.
MVP
Jayson Tatum +300
Antetokounmpo +325
Luka Doncic +325
Steph Curry +1000
JA Morant +1200
Joel Embiid +1200
Kevin Durant +2200
Donovan Mitchell +2500
Nikola Jokic +2800
Trae Young +4000
Zion Williamson +4000
Damian Lillard +4500
Devin Booker +5000
Pascal Siakam +6600
Jimmy Butler +10000
LeBron James +15000
ROY
Paolo Banchero -500
Bennedict Mathurin +400
Jaden Ivey +2500
Keegan Murray +5000
Jabari Smith Jr +10000
Most Improved Player
Gilgeous-Alexander +125
Lauri Markkanen +450
Tyrese Maxey +500
Desmond Bane +700
Tyrese Haliburton +750
Keldon Johnson +2500
Devin Vassell +2800
De'Aaron Fox +3300
Bol Bol +4000
Anthony Edwards +5000
Anfernee Simons +6600
Ayo Dosunmu +8000
DPOY
Antetokounmpo +275
Rudy Gobert +400
Bam Adebayo +700
Evan Mobley +700
OG Anunoby +800
Joel Embiid +1400
Mikal Bridges +1600
Anthony Davis +1800
Jarrett Allen +2500
Draymond Green +2800
Marcus Smart +2800
Myles Turner +3300
Jrue Holiday +4000
Ben Simmons +5000
Jaren Jackson Jr. +5000
Sixth Man
Russell Westbrook +115
Jordan Poole +290
Bennedict Mathurin +850
Malcolm Brogdon +1000
Christian Wood +1400
Collin Sexton +2000
Bobby Portis +2200
Bones Hyland +2800
Norman Powell +3500
Kevin Love +4000
Jaylen Nowell +6600
Max Strus +6600
John Wall +8000
Coach of the Year
Will Hardy +450
Joe Mazzulla +700
JB Bickerstaff +750
Chauncey Billups +800
Mike Budenholzer +900
Taylor Jenkins +1000
Willie Green +1400
Jacques Vaughn +1800
Nate McMillan +1800
Monty Williams +2000
Michael Malone +2200
Wes Unseld Jr. +2500
Jason Kidd +2800
Mark Daigneault +3300
Nick Nurse +3300
Tyronn Lue +3300
Erik Spoelstra +3500
Billy Donovan +4000
Chris Finch +4000
Gregg Popovich +4000
Mike Brown +4000
Rick Carlisle +4000
Tom Thibodeau +4000
Doc Rivers +5000
Steve Clifford +5000
Steve Kerr +5000
Darvin Ham +10000
Dwane Casey +15000
Jamahl Mosley +20000
Stephen Silas +20000
[table id=2 /]