We are often asked what our best sport is in handicapping. At OffshoreInsiders.com we've gotten to the point where we are at the top of the list in every sport, so it's difficult to single one out. However there is no question that our mastery of baseball in the early 1990s is what vaulted me to the point where professional sports handicapping would be my lifelong profession.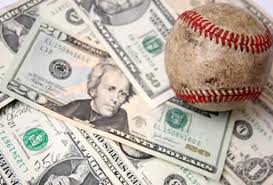 Yet, to be perfectly frank, while continuing to improve upon our results in other sports, over the last year and a half, I returned to the pack in baseball.  It was time for some serious introspection. Fortuitously, going back to my handwritten spiral notebook scorephone days, I saved my picks, 
analysis, and results from decades past.
Was I doing something different all of a sudden? After a few hours of soul searching, it became obvious I slowly but surely abandoned some of the basics that got me to the pinnacle in the first place.
In some respects, I became a victim of my own success betting picks winners. In 2005, I had probably my best year winning what we call "Dandy Dogs". Dandy Dogs are moneyline dogs of 140 or more
(includes runline plays getting back 140 or more).
The downside was it led me to develop a bias against even small favorites. I've known and preached for years the basics of risk/reward ratio. For example, a 150 favorite needed to have a 60 percent chance of winning to be a break even bet or based on our threshold had to have 70
percent chance of winning to be a premium play. Yet there were nights I'd go 3-4 and still win money because of betting all dogs. Bit by bit, I developed personal chalk reluctance in betting.
Too many well-handicapped favorites of more than 120 became passes for me simply because of my increasing acute prejudice against laying the juice. Since returning to my roots, the 120-160 favorites have been a major reason behind my return to MLB handicapping prominence.
But even with picking
our baseball underdogs, we became victims of the successes we had in other sports. We take great pride in being ahead of the curve with modern technology. The Internet made every team the "local team" from a handicapping standpoint because once regional information is now so easily accessible.
The World Wide Web has been a boon to us in preseason NFL with accurate key player rotation and motivation info. In college football and basketball it has revolutionized the way sharp players bet.
While super systems have been a great addition in all sports including baseball, our self scrutiny brought to light that we were allowing the Billy Beane
and Bill James inspired new fangled stats to convince us out of winning picks.
In our first two decades of handicapping, we have had significant success with big underdogs by riding either hot but non-elite pitchers and/or fading struggling star pitchers. Yet information overload had us finding a fly ball/ground ball ratio or walks/strikeout percentage that talked us out of the same kind of plays that for decades won for us.
Let there be no doubt whatsoever that ERA and WHIP are still the two most important statistics in foretelling future results of pitchers. Likewise in handicapping offense we have streamlined with great success. Just like for 20 plus years, we returned to utilizing on base percentage and slugging percentage foremost.
We never stop fine-tuning our techniques but our introspection reminds us sometimes we need to remember "if it ain't broken, don't fix it". Since returning to our roots in baseball handicapping, not so coincidently we have returned to the results our clients and we desire.
With all other sports, utilizing the Internet and cutting edge computer software is imperative to staying ahead of the curve, but MLB is the clear exception. Baseball handicapping is much like playing the game: master the basic fundamentals.