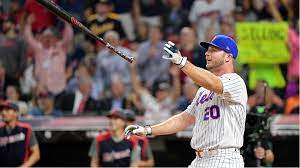 The Home Run Derby goes down Monday night ahead of next week's MLB All-Star Game, and the reigning champ is favored to repeat.
SportsBetting not only has odds for the Derby champion, but also who will hit the most/least home runs in Round 1, the longest home run, total HRs hit and more. Joe Duffy will have expert picks on these at OffshoreInsiders.com
Additionally, there are head-to-head matchups available for Round 1.
The American League is listed as a slight, -125 favorite for the All-Star Game itself, while the NL comes back as a +115 underdog.
If you are able to use this information, please consider citing the source.
Longest Home Run
Over/Under 488.5 feet
Total Distance – All Home Runs
Over/Under 22.5 miles
Total Home Runs Hit
Over/Under 275.5
Total Home Runs Hit – Round 1
Over/Under 169.5
Player to Hit Longest Home Run
Vladimir Guerrero Jr. +250
Pete Alonso +300
Luis Robert Jr. +350
Julio Rodriguez +600
Adolis Garcia +800
Randy Arozarena +850
Mookie Betts +2000
Adley Rutchsman +2200
Home Run Derby Champion
Pete Alonso +275
Vladimir Guerrero Jr. +400
Luis Robert Jr. +450
Julio Rodriguez +550
Adolis Garcia +600
Randy Arozarena +850
Mookie Betts +1000
Adley Rutchsman +1400
Fewest Home Runs – Round 1
Adley Rutschman +350
Randy Arozarena +350
Adolis Garcia +550
Mookie Betts +550
Julio Rodriguez +600
Luis Robert Jr. +600
Valdimir Guerrero Jr. +800
Pete Alonso +850
Most Home Runs – Round 1
Pete Alonso +350
Vladimir Guerrero Jr. +350
Julio Rodriguez +550
Luis Robert Jr. +550
Adolis Garcia +600
Mookie Betts +600
Randy Arozarena +800
Adley Rutschman +850
Luis Robert Jr. -200
Adley Rutschman +160
Adolis Garcia -140
Randy Arozarena +110
Pete Alonso -165
Julio Rodriguez +135
Vladimir Guerrero Jr. -165
Mookie Betts +135