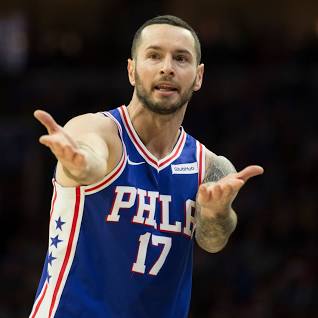 Doc Rivers was dismissed of his duties as 76ers head coach Tuesday.
Many expected this to happen following Philly's collapse in the Boston series, but many probably wouldn't have guessed who the oddsmakers have made the favorite to replace Rivers.
SportsBetting had JJ Redick at the top of the list of candidates. Redick, a former Sixer, recently interviewed for the Raptors coaching vacancy, and he's close with Joel Embiid.
Other usual suspects adorn the odds board, but perhaps the most intriguing for Philadelphia fans is former Villanova head man Jay Wright.
You can see the full list of names below, which hilariously includes Allen Iverson, as well as updated "next coach" odds for the Suns.
76ers Next Head Coach
JJ Reddick 3-1
Monty Williams 4-1
Nick Nurse 5-1
Jay Wright 6-1
Mike Budenholzer 6-1
Mike D'Antoni 7-1
Frank Vogel 8-1
David Adelman 9-1
Mark Jackson 10-1
Jeff Hornacek 14-1
Sam Cassell 18-1
Dawn Staley 20-1
Jeff Van Gundy 25-1
Andre Iguodala 50-1
Allen Iverson 500-1
Suns Next Head Coach
Nick Nurse 2-1
Kevin Young 5-2
Mike Budenholzer 3-1
Tyronn Lue 4-1
Doc Rivers 7-1
Frank Vogel 12-1
Sam Cassel 12-1
Steve Nash 14-1
Kevin Atkinson 16-1
Jordi Fernandez 18-1
Tom Izzo 18-1
Stephen Silas 20-1
Scott Brooks 25-1
Becky Hammon 33-1
Charles Barkley 500-1
OffshoreInsiders.com is the place to go