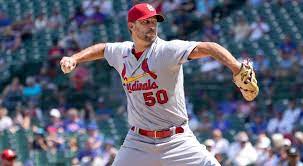 Grandmaster Joe Duffy has easily the strongest bet on Game 2 of Nuggets-Lakers with side and total led by Wise Guy. A pair of MLB sides. Yeah our magical system has been in neutral, but no worries. All the best systems have a bump or two. You've won with us for decades by knowing they bounce back at OffshoreInsiders.com
Free pick:
LA DODGERS (URIAS -1.5 +100) St. Louis (Wainwright) at Bovada
A viral system says to go with non-divisional away favorites. We've excluded Saturdays as it is the best day for home teams +148.67 units and equally great on money and runlines. Since 2018 away interdivisional favorites are even more dominant on the runline at 6.9 ROI. Adam Wainwright will be on a pitch-count and many experts believe he should be in the pen, no longer a starter. Julio Urias has been progressively better this season with a 2.29 ERA and .189 OBP against in his last three starts. LA is a stunning 62-17 going back to last year against teams with winning percentage of .400 or less.