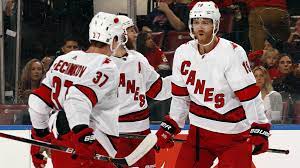 Hurry 2 bets in 1 ET hour! Ouch, uncanny how many of our -1.5 runline bets are winning by just a run, but fantastic season continues at 41-32 MLB with 21 times getting juice, but at even more jaw-dropping 12-4 for the season with Wise Guy plays, 6 times winners of 145 or more including KC and Oakland last night.
2 more Wise Guys among 3 MLB led by another Juicy Lucy! Juicy Lucies, once called Dandy Dogs, are either moneyline or runline bets in which we are getting at least +140 from the great Joe Duffy at OffshoreInsiders.com
Free NHL pick from MYBookie
CAROLINA +100 Florida
Bubble burst angle that has to do with fading teams off losses that ended a long winning streak is +226.23 units and a 13.5 ROI. Truthfully, in hindsight, we should be betting more NHL. All our top systems are having productive to great years. With Florida just having a six-game winning streak snapped, they fit firmly into this system.
Our top power ratings say Carolina should be -142 giving them nearly an eight-percent edge.