The umpteenth version of "The Match" goes down this Saturday, but hey, at least Tiger Woods is competing in this one so it should draw a few more eyeballs that the last few made-for-TV golf exhibitions.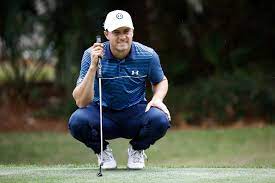 Jordan Spieth and Justin Thomas are good buddies who should feed off each other throughout the 12-hole, best-ball format. Woods is with world No. 1 Rory McIlroy so the pairings are pretty even, and the odds reflect that as well.
SportsBetting.ag currently has Team Spieth/Thomas as a slight favorite (-125) against Team Woods/McIlroy (+105).
There are also a ton of different SportsBetting prop bets available to wager on for The Match.
Will any player hit a hole-in-one?
Yes +5000
Closest to the pin on first Par 3
Jordan Spieth +265
Justin Thomas +265
Rory McIlroy +265
Tiger Woods +290
Player to hit the longest drive
Rory McIlroy -110
Justin Thomas +350
Jordan Spieth +500
Tiger Woods +500
Player to hole the longest putt
Jordan Spieth +250
Justin Thomas +270
Rory McIlroy +270
Tiger Woods +285
Pairing to record the most birdies
Spieth/Thomas +110
Woods/McIlroy +165
Tie +350
Total eagle putts from green on Hole No. 7
Over/Under 1.5
Total water balls on Hole No. 8
Over/Under .5
Team to win Hole No. 1
Tie +105
Spieth/Thomas +225
Woods/McIlroy +250
Leading team through first six holes
Spieth/Thomas +125
Woods/McIlroy +160
Tie +300
Total eagles or better by both teams
Over/Under 1.5
Will Hole No. 12 be played?
Yes +160
No -200
[table id=2 /]