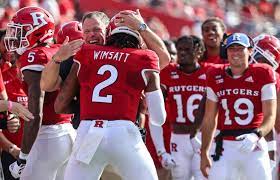 Saturday, September 17 college football market report.
🏈Biggest bets in terms of percentage of wagers: Utah, Rutgers, Minnesota, Ole Miss
🏈Biggest bets based on percentage of money: Utah, Old Dominion, Georgia, Western Kentucky
🏈Largest line moves, opener to current: Coastal Carolina opened -18.5 now -12.5, Cincinnati -20 to -23.5, Iowa -20 to -23.5, Virginia -10.5 to -7.5
🏈Biggest splits. Teams listed have a highest percent of cash compared to bets: New Mexico, South Florida, Fresno State, Nebraska
🖥Joe Duffy swept again last night, now 19-7; 3 Game/Totals of Year among 12 winners, 8 Wise Guys. Insane! OffshoreInsiders.com
[table id=2 /]
There is a belief that contrarian betting is one of the strongest tools of professional gamblers. The books win more often than lose and fading the public is what many sharps exploit as a weapon. Most contrarian handicapper love to fade based on percentage of bets, believing the squarest intel comes from the smallest wagers. Others believe percentage of money is the most effective tool, because they are rooting for the same bets as the always profitable sportsbooks. The above link shows the most successful professional gamblers have a sliding scale.
The theory is to bet against the public. However, some use the splits and bet on the teams that have a significantly higher percentage of money than bets.