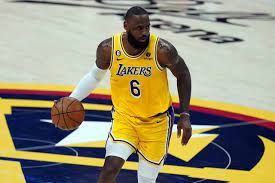 Following last night's season-ending loss, LeBron James said he has "a lot to think about" in regard to "moving forward with the game of basketball."
Of course, the cryptographers are dissecting those comments every which way, and the books have already set odds on whether James will retire and his next team if he decides to leave the Lakers.
SportsBetting made the Knicks and 76ers co-favorites for the King's next club. Staying in L.A. with the Clippers is the third option, while a return to Cleveland and a quick trip to Phoenix round out the Top 5.
James has never shied from sharing his love for Madison Square Garden, and a LeBron/Brunson combo could be very competitive in the East.
For Philly, Daryl Morey would likely give James a big part in the head coach hire, and the on-floor talent is already in place.
As far as the chatter of James calling it a career…the oddsmakers aren't buying any of that. The below numbers equate to just a 15.4% chance that King James will hang up his sneakers after 20 seasons.
If you are able to use this information, please consider citing the source.
LeBron James Team – 2023-24 Regular Season
New York Knicks 3-1
Philadelphia 76ers 3-1
Los Angeles Clippers 5-1
Cleveland Cavaliers 7-1
Phoenix Suns 8-1
Golden State Warriors 9-1
Dallas Mavericks 10-1
Miami Heat 10-1
Sacramento Kings 12-1
Milwaukee Bucks 18-1
Chicago Bulls 20-1
Boston Celtics 25-1
Will LeBron James retire?
No 1-10 (-1000)
Yes 11-2 (+550)