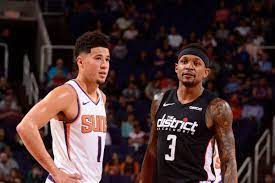 The first major domino of the NBA offseason fell last night as Bradley Beal was traded to the Phoenix Suns.
Of course, that move had an impact on next year's championship odds, as well as "next team" odds for all of the other players reportedly on the trading block.
SportsBetting has updated its trade odds for Damian Lillard, DeAndre Ayton, Karl-Anthony Towns, Trae Young, Zach LaVine and Zion Williamson, where the Suns have been removed from some of the players' candidates.
The Suns' title odds for next year moved from +900 to +700 immediately after the Beal news broke. This morning, Phoenix has moved even further up the board and now has +650 odds.
OffshoreInsiders.com is the place to go for daily winners.
| MyBookie | | Double deposit up to $1,000 +$100K |
| --- | --- | --- |
| Bovada | | Great online casino with 3K welcome bonus! |
| GT Bets | | 100% bonus on initial deposit, 50% on 2nd |
| Bet Now | | 100% sign up bonus |
| BetOnline | | Home of the opening line, has a $1,000 welcome bonus |
| Sports Betting | | #1 rated sportsbook for live betting. 1K signup bonus |
2023-24 NBA Championship
Denver Nuggets +400
Boston Celtics +600
Milwaukee Bucks +650
Phoenix Suns +650
Golden State Warriors +1200
Miami Heat +1400
Philadelphia 76ers +1400
Los Angeles Clippers +1600
Dallas Mavericks +1800
Los Angeles Lakers +1800
Memphis Grizzlies +2000
Cleveland Cavaliers +2800
New Orleans Pelicans +2800
New York Knicks +3300
Sacramento Kings +3300
Minnesota Timberwolves +5500
Atlanta Hawks +6600
Oklahoma City Thunder +6600
Toronto Raptors +6600
Brooklyn Nets +9000
Houston Rockets +10000
Portland Trail Blazers +10000
San Antonio Spurs +10000
Chicago Bulls +12500
Utah Jazz +12500
Indiana Pacers +15000
Orlando Magic +15000
Washington Wizards +20000
Charlotte Hornets +30000
Detroit Pistons +40000
Damian Lillard Next Team
Miami Heat +200
Brooklyn Nets +300
New York Knicks +300
Boston Celtics +400
San Antonio Spurs +900
Los Angeles Lakers +1200
Dallas Mavericks +1400
Los Angeles Clippers +1400
Atlanta Hawks +1600
Chicago Bulls +1800
Memphis Grizzlies +2000
DeAndre Ayton Next Team
Dallas Mavericks +300
Chicago Bulls +400
Atlanta Hawks +500
Charlotte Hornets +600
Orlando Magic +600
Indiana Pacers +900
Portland Trail Blazers +900
Boston Celtics +1000
Oklahoma City Thunder +1200
San Antonio Spurs +1200
Toronto Raptors +1200
Golden State Warriors +2000
New Orleans Pelicans +2000
New York Knicks +2000
Minnesota Timberwolves +2500
Karl-Anthony Towns Next Team
New York Knicks +300
Washington Wizards +400
Chicago Bulls +500
Sacramento Kings +550
Houston Rockets +600
Toronto Raptors +700
Brooklyn Nets +750
Boston Celtics +800
Portland Trail Blazers +900
Miami Heat +1000
Golden State Warriors +1200
Charlotte Hornets +1400
Trae Young Next Team
LA Lakers +125
Chicago Bulls +500
Miami Heat +550
LA Clippers +600
Dallas Mavericks +700
Washington Wizards +900
Boston Celtics +1000
Minnesota Timberwolves +1000
Portland Trail Blazers +1400
New Orleans Pelicans +1800
Denver Nuggets +2000
Oklahoma City Thunder +2000
San Antonio Spurs +2500
Utah Jazz +2500
Zion Williamson Next Team
Portland Trail Blazers +200
Charlotte Hornets +325
Houston Rockets +400
New York Knicks +400
Utah Jazz +600
Minnesota Timberwolves +800
Oklahoma City Thunder +800
Orlando Magic +950
Golden State Warriors +1200
Zach LaVine Next Team
Miami Heat +300
Brooklyn Nets +400
Atlanta Hawks +500
Dallas Mavericks +600
Golden State Warriors +700
Oklahoma City Thunder +750
New York Knicks +800
Boston Celtics +900
Portland Trail Blazers +1000
Toronto Raptors +1000
LA Lakers +1200
Denver Nuggets +1400
Washington Wizards +1600